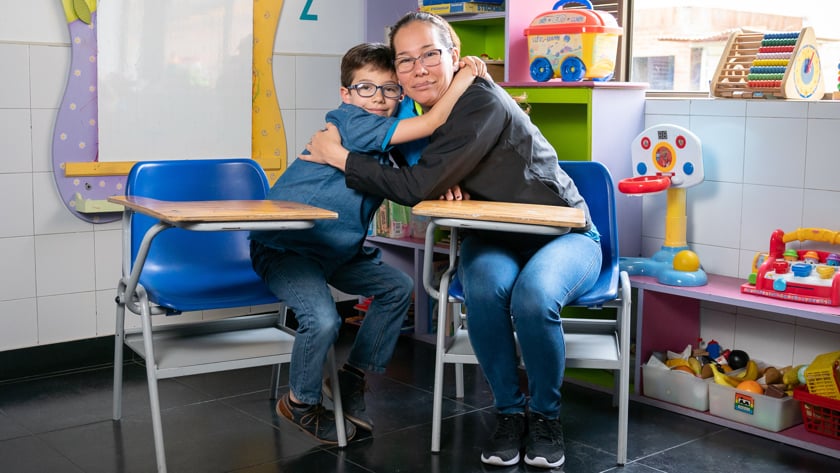 Add Your Heading Text Here
Our Colombia Education Sponsorship program is different—instead of sponsoring a specific child or family, your sponsorship goes toward the family in most urgent need of support. This means that as families enter and graduate from this program, we're able to provide the support that's most needed, immediately. The lifechanging therapies and services these children and families receive would not be possible without the sustainable sponsorships you have made possible! You can provide monthly support to families in need at 3 levels by sponsoring:
1 family at $40/month 2 families at $80/month 3 families at $120/month
AGCI's Education Sponsorship program provides invaluable support and hope to the vulnerable families we serve. But what really makes our Colombia Education Sponsorship program so different? In our Colombia Education Sponsorship program, we meet families where they're at to provide the education, support, and resources the entire family needs to thrive. 
When you become a sponsor with AGCI, you're helping families find lasting change, break cycles, and create the futures they've always dreamed of.
 This is only possible because of sponsors like you!
How Sponsorship Helps Children
40% of the children in our Colombia Sponsorship community have an undiagnosed and untreated learning disability. We are so proud to partner with a community-based organization in Colombia that works with these vulnerable families to help children with behavioral issues thrive.
This life-changing organization works within a community in Colombia in which 70% of the families are in the lowest socio-economic class. Education Sponsorship gives children the tools they need to excel in school through speech therapy, occupational therapy, and psychological support. Due to economic hardships within many of these children's families, therapy is often inconsistent because families are unable to pay for these necessary services. Sponsorship fills in the gaps for these families!
How Sponsorship Helps Parents and Guardians
Due to stigmas surrounding learning disabilities, many families aren't aware of the challenges facing their children. Often, if a child isn't successful in a traditional school environment, they are labeled as uncooperative, unintelligent, or lazy. Without the knowledge, income, or resources to diagnose and accommodate their children's learning disabilities, families are unable and unsure of how to move forward. Through our partner in Colombia, we are also able to educate parents on learning disabilities and parenting strategies through parenting classes. This helps more children stay in school and strengthens families.